Yes, Apple announced Airpods pro to be launch on 30th October 2019 and starting from $ 249 and in India, it was INR 24,900
Images source : Apple
Initially apple announced Airpods Pro to be launched today 30th October 2019, Price starting in USA from $249 and in India it was INR 24,900. On the first day of the week (Monday new year of India), Apple announced it's most effective and as trending airpods, The Airpods Pro.
Active Noise Cancellation :
AirPods Pro is the only in-ear headphones with Active Noise Cancellation that continuously adapts to the generate of your ear and the fit of the ear tips — baring out the world so you can focus on what you're listening to.
An outward-facing microphone detects external sound.
AirPods Pro then counter it with equal anti-noise, cancelling the external sound before you hear it.
An inward-facing microphone listens inside your ear for unwanted sound, which is also eliminated with anti-noise.
Noise cancellation is continuously adjusted at 200 times per second for truly immersive sound, so you're fully tuned in to your music, podcasts, and calls.
Want to hear what's happening around you? Just press and hold the force sensor on the stem to jump between Active Noise Cancellation and Transparency mode — which lets outside sound in, and allows things to sound and feel natural when you're talking to people nearby.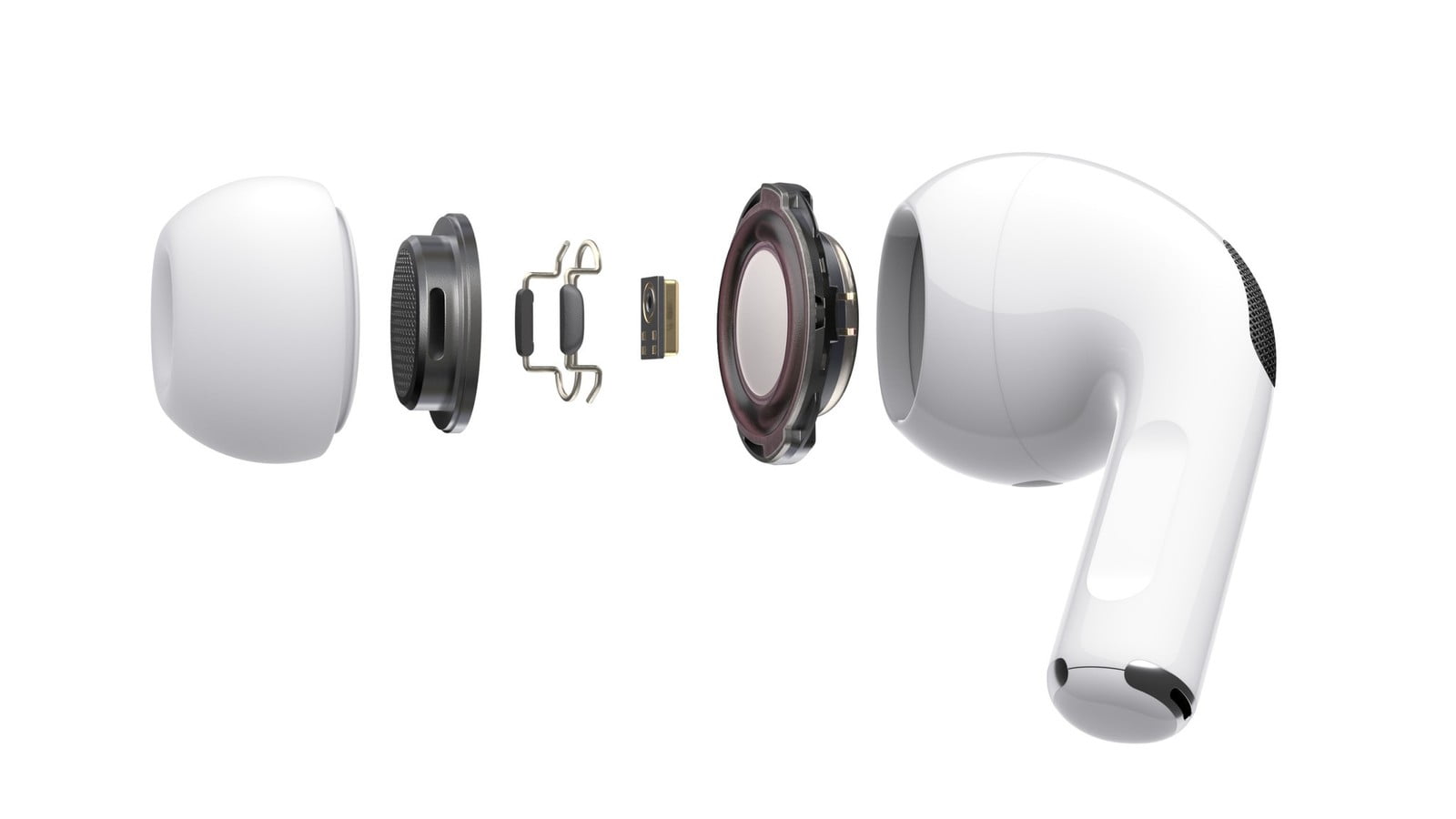 Every Ear get fit with this new Pods :
Apple refines comfort, creating a new class of in-ear headphones
with a customizable fit that forms an having extreme seal for Active Noise Cancellation.
You'll feel your music, not the headphones.
Powerful bass is delivered by a custom-built high-excursion, low-distortion speaker driver. An inward-facing microphone hears sound as you do. AirPods Pro then fine-tune the audio by adjusting the mid and low frequencies. The amplifier powers the speaker driver to remove background noise and works with the H1 chip to control listening levels. A super-efficient high dynamic range amplifier produces pure, incredibly clear sound while also extending battery life.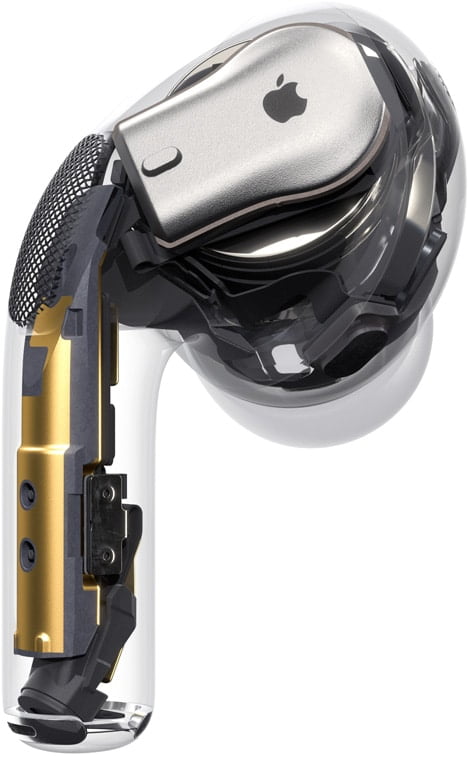 Performance And Design
Tech-packed yet compact, AirPods Pro are built around our System in Package design — featuring the H1 chip that powers everything from sound to Siri.
The Apple-designed H1 chip employs 10 audio cores, creating incredibly low audio processing latency that enables real-time noise cancellation.
The System in Package design is meticulously arranged, with the placement of each component based on the form of the human ear — maximizing comfort, fit, and stability.
Use the force sensor to easily control music and calls, and switch between Active Noise Cancellation and Transparency mode.
Designed to keep up with you, AirPods Pro are sweat and water resistant,1 and they feature an expanded mesh microphone port that improves call clarity in windy situations.
Battery Life
The Wireless Charging Case delivers more than 24 hours of battery life to keep you and your AirPods Pro on the go. And it's compatible with Qi-certified chargers.
More than 24hrs of listening time with multiple additional charges in the case2
Up to 4.5hrs of listening time on one charge3
Around 1hr of listening time on only 5 minutes of charging4